By Millicent Helmka and Sydney Roux
Lusher Homecoming 2019 has come and gone. While many find the event mainly to be nothing more than an annual bonding experience, it is also a prime way to show individual style and expression via the many outfits seen at the event.
Colors ranged from dark and subtle to bold and bright. Common color combinations were blacks along with blues, whites, reds, and metallic or sparkly colors. Most students also tended to favor light clothes, as the autumnal chill had yet to set in that weekend, and the "airiness" allows for
better mobility in the somewhat crowded venue and dance floor. This is also why some students favored jumpers or rompers, for both a uniform, full-body look and a nice fluidity and ease when walking around.
Along with the subtle simplicity many displayed in their outfits, there was also plenty of "camp," or purposeful, over-the-top absurdity in certain outfits, which frequently complimented the personality of those wearing them as they embraced the fact that Homecoming is a chance for fun, laid-back expression.
On the shoe front, many students went for a stylish, sleek, black chunk heel, which seems to be a trend right now. These heels are a great solution for students not used to wearing heels. The chunky width helps to balance feet and makes it easier to walk without wobbling, as well as provides a chic new look to any outfit. Many students also went for a classic stiletto (skinny and pointed) heel. Stilettos signify grace and elegance, as it takes a certain amount of skill and calf strength to support them.
Another embellishment: jewelry, and it was a very diverse display at Homecoming, ranging from contemporary and simple, to heirloom, to bulky and bright-colored. Neon shades are popular right now and stand out, especially when paired with black clothing. The combination of black and hot pink seems to be a hot one this year.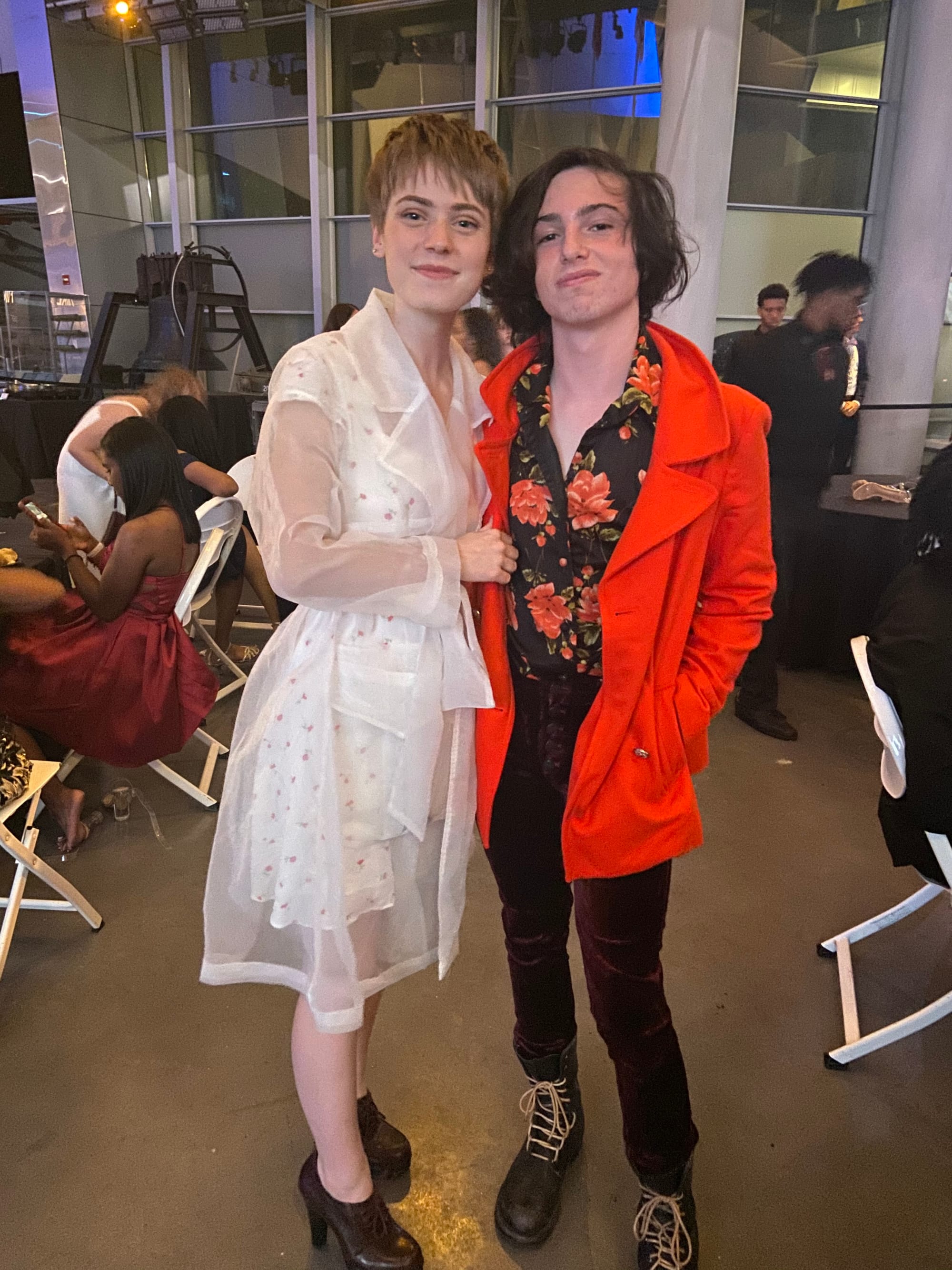 Photos by Sydney Roux and Millicent Helmka
Some students in our artistic Lusher community love to express themselves. Below are examples of students who went above and beyond to do just that.
These students took a very classic approach to their attire. The left pictures a flower-print white dress with a beautiful sheer-white overcoat. On the right, the student takes on a matching flower print. The orange suit jacket matches perfectly with the colors of the flowers, a wonderful touch to the ensemble. For shoes, these students chose a vintage twist to their outfits. On the left, early
20s-style flapper shoes, and on the right, matching black workman's boots. These shoes are the perfect balance to the chic, vintage look.
This beautiful and vibrant outfit, complete with eccentric gold statements, is completely brought together from head to toe. First, the dress itself has gold embellishments. Further down, the corsage and handbag match the shade of gold seen in the dress. Finally, this student's shoes also coordinate with the rest of the outfit.